Snap On Veneers All You Need To Know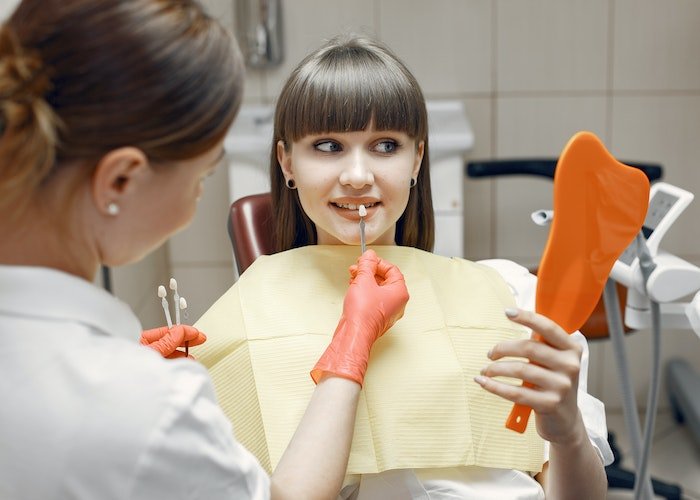 ---
Snap-on veneers are an economical approach to getting a beautiful & healthy smile quickly. These temporary dental veneers can instantly cover your stained, chipped, or irregular teeth. You can order them online and clip them on your existing teeth to smile confidently.
What Are Snap On Veneers?
Snap-on veneers are temporary veneers made from resin material. You can get personalized snap-on veneers designed to fit over your teeth perfectly. These are the perfect solution to hide teeth discoloration or misalignment of natural teeth. They are utterly different from permanent veneers and are also known as clip-on veneers, snap-on teeth veneers, and instant veneers.
If you are looking for an affordable & quick approach to enhancing your smile, snap-on veneers are a perfect choice. Just snap them over your regular teeth and shine your smile instantly. Consult your dentist about the best snap-on veneer brands available near you.
Snap-on veneers are made from:
Snap-on veneers comprise a unique structure that makes them different from other veneers. These temporary veneers are composed of plastic material that is glossy and flat. Users can fit them over their teeth easily & quickly. Therefore, they are the most popular option for hiding the imperfections of your teeth and showing off a beautiful & dazzling smile.
Who should get snap-on veneers?
Individuals with oral issues like Missing teeth, Yellow or stained teeth, Minor gaps between teeth, and Misaligned teeth are suitable candidates for snap-on veneers.
How do snap-on veneers work?
The best alternative to traditional veneers, snap-on veneers are one of the popular dental appliances that snap onto your natural teeth to cover stained and discolored teeth. Unlike other dental restoration procedures, they need sturdy teeth to fit over.
How much do snap-on veneers cost?
The minimal snap-on veneer cost may be between $1,000 and $ 4,000 per arch. However, the cost may vary depending on the number of teeth being restored. Also, prices may differ location vise as some dentists may offer $800 per arch.
Why Choose Them Over Traditional Veneers?
Snap-on veneers are a popular choice of wearers nowadays because people can get beautiful smiles instantly. This option is also perfect for individuals who may want traditional veneers but want to test their credibility before wearing them. According to dental experts, installing permanent veneers requires removing teeth enamel to fix them perfectly. Whereas snap-on veneers do not need anything like this, you can set them yourself. So, if you don't want any alteration in your teeth, snap-on veneers are a great option.
If you are looking for a permanent solution to improve your smile, consult your dentist first to determine what will be the most beneficial & suitable for you. The dental experts can even help you compare all options with the help of the potential pros & cons so that it would become easier to choose the best one.
What are Snap-on veneers' pros and cons?
Here, we have discussed the advantages and disadvantages of Snap-On Smiles:
Pros
These are inexpensive substitutes for traditional veneers.
It does not involve the removal of tooth enamel before the installation; therefore, it is entirely painless.
Since these are removable devices, they are easier to clean.
They improve your smile appearance instantly.
Cons
They may cause discomfort as they are more likely to get stained or broken.
More risks for oral cavities and other health issues.
Not a good alternative to dental braces.
Additionally, snap-on veneers are minimally invasive yet effective in producing the desired results. Wearers have just to fix them directly over their teeth, and they can even remove them whenever they want.
Conclusion:
Do you have stained or yellow teeth causing embarrassment while talking to others? Luckily, several options are available in cosmetic dentistry, like veneers, teeth whitening, lumineers, etc. But, what to choose? Consult "Dentist Veneers Houston" experts as only they can suggest the best treatment option to deal with your current oral issues. Schedule an appointment now and explore your cosmetic dentistry options.